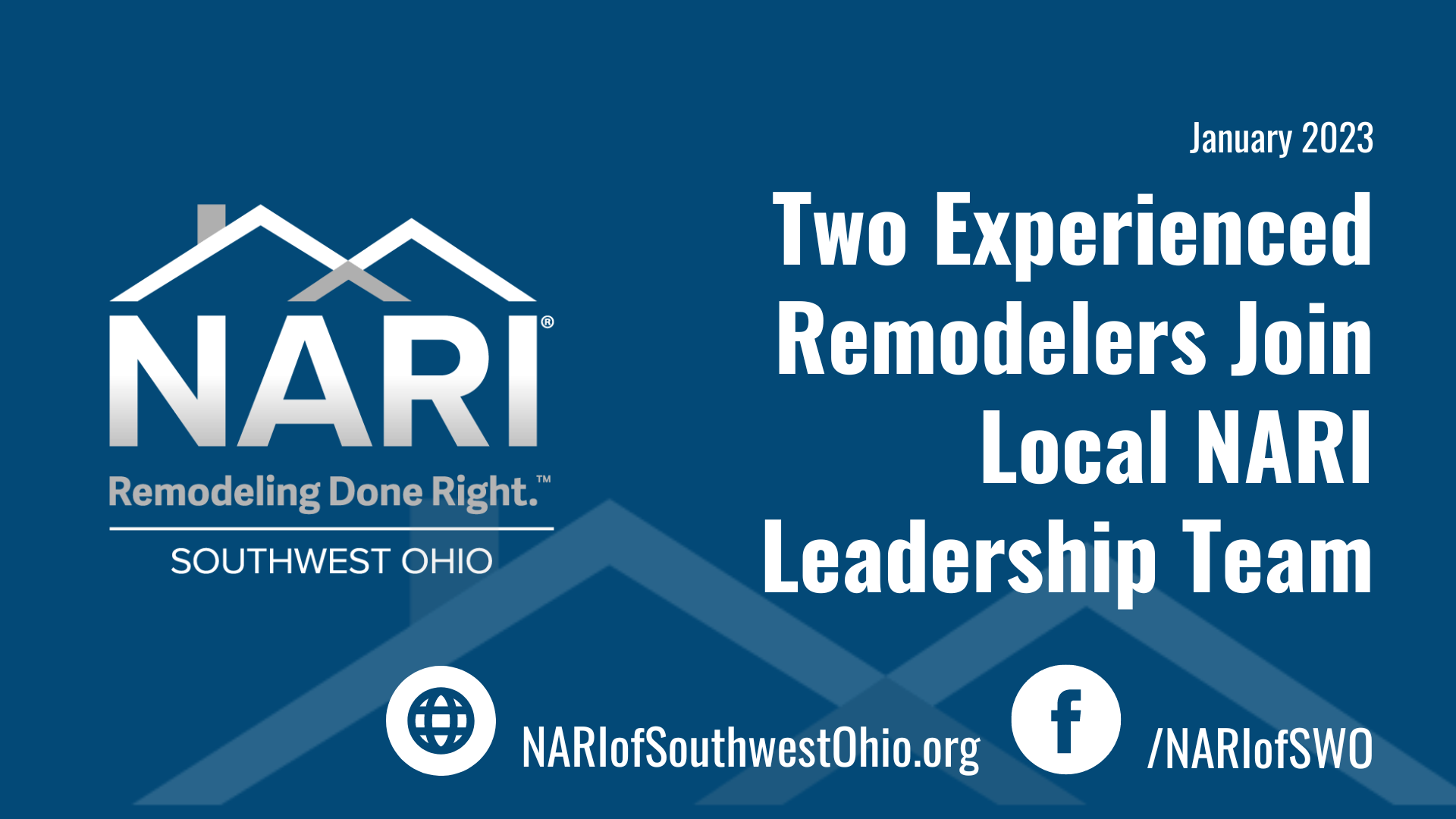 Two Experienced Remodelers Join NARI Leadership Team
January 2023 – Mike Hendy, Project Consultant at Neal's Design Remodel in Cincinnati is joining the Board of Directors of NARI of Southwest Ohio as of January 2023 along with Jarrod Shell, MCR, UDCP, Owner of Lifestyle Kitchen Designs, LLC in Centerville. Both companies are long-time members of the National Association of the Remodeling Industry and advocates for the remodeling profession, Remodeling Done Right.
Joining fellow Directors, John Gauch with Bin There Dump That; Brady Ferguson, Ferguson Bath, Kitchen & Lighting Gallery; Secretary/ Treasurer Richard Chafins with Kitchens. Inspired, a division of Big Sandy Superstore; Vice President Christine Balsan, CR, UDCP, Remodeling Designs, Inc.; President Josh Florkey, CKBR, Kircher Construction, LTD; and Chairmen of the Board Andrew Glasgow, CR, H. Glasgow Construction Co. and Erich Eggers, II, CR, CKBR, CGR, CAPS Certified, Remodeling Designs, Inc., Hendy and Shell are excited to begin looking at remodeling from a post-pandemic focused-lens in 2023 with many of the challenges taking new shapes with professionals ready to tackle whatever they are faced.
Stepping off the Board after many years of service include Joe Chapman, Sims-Lohman Fine Kitchens & Granite and Chuck Hiatt, Appliance Gallery.
Members come together regularly to discuss issues faced by remodeling professionals and well as home and business owners when it comes to the industry. "It's imperative that we stay ahead of not only trends but business forecasts, and those legislative and regulatory issues that impact every aspect of our businesses and the projects we deliver," says NARI of Southwest Ohio President Josh Florkey, CKBR. Florkey is excited to kick off the new year with the organization's Contractor of the Year Celebration, January 25 at Shaker Run Golf Club. Eighteen award-winning projects from throughout the area will be recognized for outstanding craftsmanship, design and execution by members.
NARI, officially established on a national basis in 1982, began as a local chapter in southwest Ohio in 1984 and continues to have the same core purpose to advance and promote the remodeling industry's professionalism, product and vital public purpose. NARI members are committed to integrity, high standards, professional education, ethics and market recognition. For a list of NARI members or additional information, contact NARI of Southwest Ohio online at nariofsouthwestohio.org; by email at info@nariofsouthwestohio.org; or by phone at (937) 222-NARI.