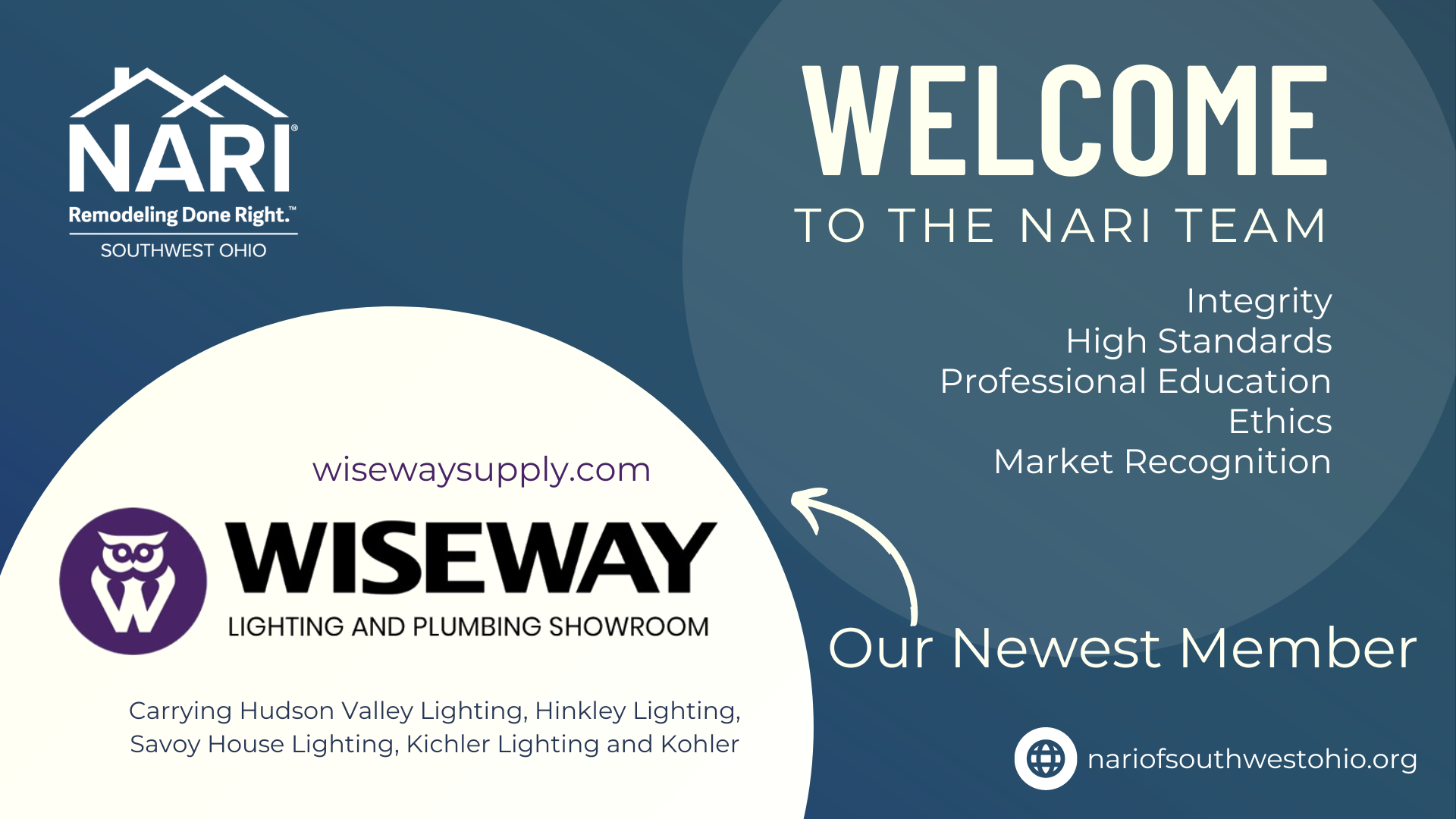 NARI Welcomes Newest Member
NARI of Southwest Ohio welcomes Wiseway Lighting and Plumbing Showroom as the organization's newest member. Joining in January 2023, Wiseway has been dedicated to providing their customers with the most knowledgeable product expertise and accommodating customer service since 1972. Their showroom staff is trained to help select lighting and plumbing products for remodeling projects and new home builds.
Wiseway carries numerous lines including Hudson Valley Lighting, Hinkley Lighting, Savoy House Lighting, Kichler Lighting and Kohler.
"Biz" and Jackie Cain founded the company in Florence, Kentucky, back then selling many different products, ranging from plumbing and electrical supplies, to lighting fixtures, kitchen cabinets and appliances. Today, they remain professionally managed and family-owned and operated. John Cain, the oldest of Biz and Jackie Cain's three children, is now the owner of Wiseway Supply and is proud to continue to grow the business his father started many years ago. With 9 locations spreading from Central Ohio to Central Kentucky, including the Dayton, greater Cincinnati and Lexington areas, Wiseway also has a Distribution Center in Cincinnati with the ability to ship Nationwide. Plus, they have two lighting and plumbing showrooms in Florence and Lexington where builders, remodelers, and homeowners can visit to choose from their wide array of high-end plumbing and lighting fixtures – the perfect way to reflect their style and make their home their own.
Wiseway is proud of their proven 50-year track record and they look forward to continuing to be the remodeler and consumers' most knowledgeable and reliable electric, plumbing and lighting supplier. They take their customers' needs seriously and look for services to provide for the way they do business.
The Wiseway team prides itself on providing service after the sale. Each staff member genuinely gets excited for your project right along with you! They want to see your projects completed and you and your customers satisfied with the results. They are also there if there are ever issues down the road. The Wiseway team will guide remodelers, builders and customers in the right direction if there is ever a warranty issue.
Everything from proactive order management to tailored customer service stock, to jobsite product management, they want their customers to know that they want to make it easy to do business with them. Their experienced staff, who have a minimum of 15 years in the industry, are dedicated to providing the solutions to their customer's needs. Wiseway is always looking to technology to help make the lives of their customers and their employees easier and more efficient. Wiseway has a state of the art computer system, Eclipse, to provide remodelers with all the tools to get your job done efficiently and on-time. This includes things like RF Shipping and Receiving, Automatic Order Acknowledgement, and Computer-managed releases. In addition to this Wiseway also participates in EDI, and provides electronic invoicing via website, email, and fax as well as payment via their website.
If you would like to reach out to a member of the Wiseway Lighting and Plumbing Showroom Team, Christa Hoffmann is the Showroom Manager and can be reached at (859) 869-1705 or choffmann@wisewaysupply.com.
If you are interested in NARI membership, visit nariofsouthwestohio.org or call (937) 222-6274 or info@nariofsouthwestohio.org.