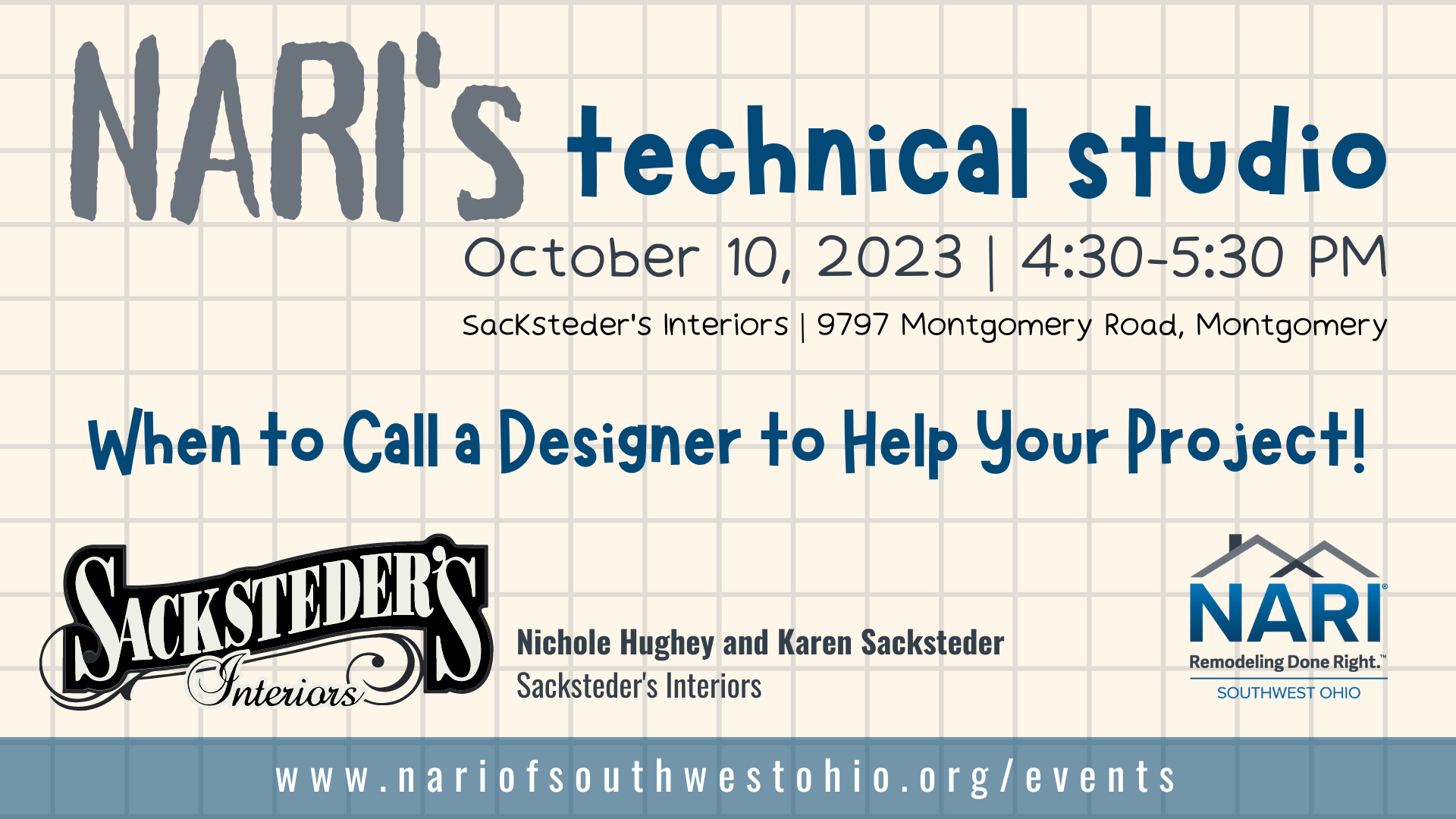 Technical Studio: When to Call a Designer to Help Your Project!
October 10, 2023 4:30pm - 5:30pm
Location Information:
Sacksteder's Interiors
9797 Montgomery Road
Montgomery, OH 45242
United States

Cost(s): $0.00 Members / $25.00 Non-Members
Register Now
Join NARI of Southwest Ohio for a Technical Studio: When to Call a Designer to Help Your Project! This studio will be led by Nichole Hughey and Karen Sacksteder of Sacksteder's Interiors. This Studio will take place on October 10, 2023 from 4:30 to 5:30 PM at Sacksteder's Interiors in Montgomery, Ohio.
When remodelers begin working with a client, one of the first things to figure out is when/if you need to call an interior designer for help. When you've determined a designer will add to the overall remodeling experience, the relationship between interior designer and contractor is a partnership that needs to be nurtured and handled with care. While the interior designer imagines the finished product and develops the blueprints to make it possible, the finished product is only as good as the contractor's ability to transform that vision into a built reality.
This Technical Studio will share tips and best practices on knowing when to make the call and how to not only establish a positive relationship but clearly set expectations so the results are exactly what everyone involved is expecting.
Nichole Hughey started Sacksteder's more than three decades ago and has experience in every aspect of the design business from the office to the showroom and into clients' homes. Specializing in both commercial and residential design, Nichole works with each client's specific style, wants and needs.

Karen Sacksteder started the firm with a small investment, a business that now includes lifelong employees who have put Sacksteder's Interiors in the forefront of interior design. Sacksteder's Interiors is a retail store offering a design service for residential and light commercial needs. Karen has a knack of telling a story about not only their designs but their furniture offerings. She prides herself on teaching customers and remodelers "why" and not pressuring them into something they won't like.